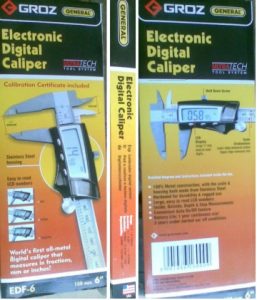 Digital Stainless Steel Caliper
Our Digital Stainless Steel Caliper provides instant and accurate measurements up to .001", making it an ideal choice for machinists and lab techs. The large, easy-to-read digital display offers both inch and millimeter measurements, as well as effortless conversions between the two. In addition, the "zero" button allows you to take two-step measurements without making complicated calculations. The Digital Stainless Steel Caliper is packaged in a foam-fitted plastic case and includes a battery and instructions.
Product Description
A precision-crafted caliper great for professional use.
• Performs inside, outside, depth and step measurements.
• Accurately reads to .001".
• Large digital display with easy-to-read numbers.
• Instantly converts measurements between inches and millimeters.
• Hardened stainless steel body with satin finish and etched black graduations.
• Zero button for effortless two-step measurements without calculations.
• Free-wheeling friction roller advances and retracts slide.
• Slide lock for repetitive measurements.
• Packaged in a foam-fitted plastic case for storage.
• Includes battery and instructions.

, USA